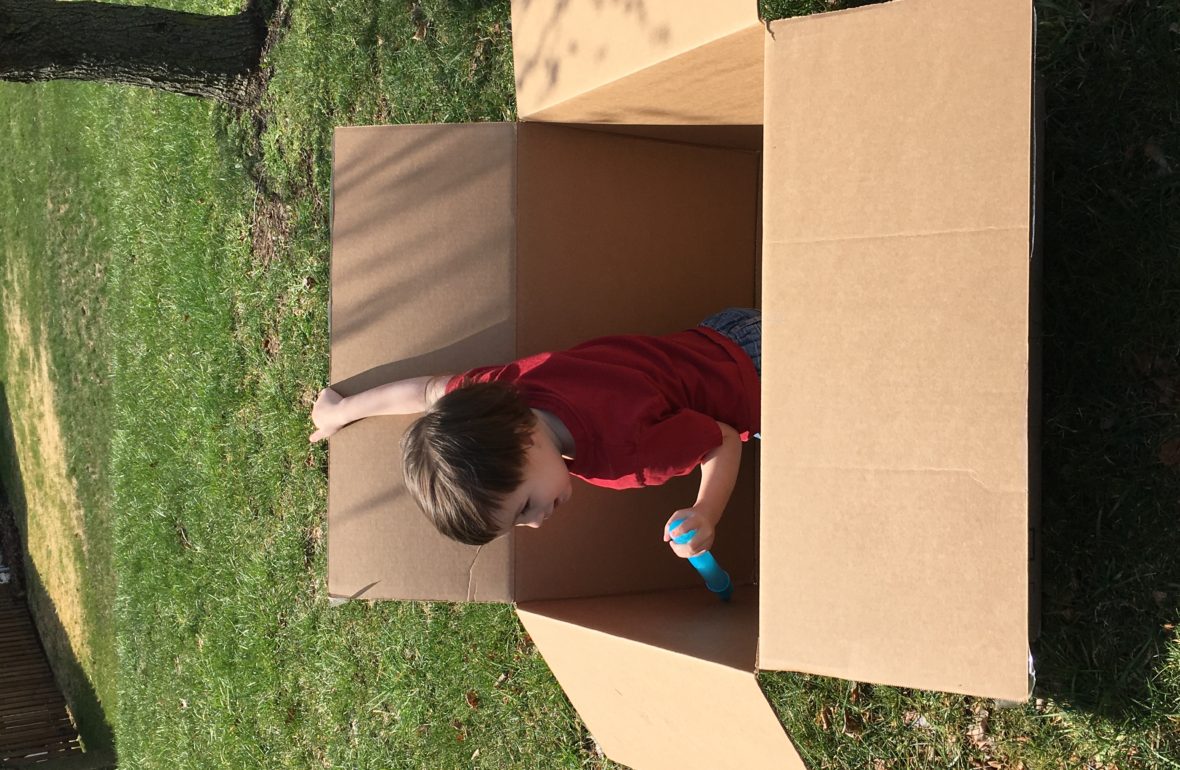 Dear Tracy,
As you know, pretend play is so important to early child development. 
(Here's an article from Psychology Today if you'd like to learn the science behind it.)
As Mister Rogers always told us: 
"Play is often talked about as if it were a relief from serious learning, but for children, play is serious learning."
But, I'm going to be honest: Some days Imaginary Play is not my strong suit.
I can't be the only mom who feels this way, so I put together a list of some easy to play ideas and some of my favorite props to help foster imagination in our home. 
A Cardboard Box 
Grab a paddle, make an oar, and you have a raft to sail away from the islands to return the heart of the sea to its rightful place
Race Car Rally (Drive-In Movie Nights! Just add popcorn!)
Life size jack in the box 
Add some markers and color a gingerbread house or a castle
Dinosaurs
I think you mean…GODZILLA!!!
No seriously, build a city out of blocks, and oh no!
We're under attack! 
Help us, Velociraptor! The mighty Stegosaurus is upon us! 
Puppets
Reenact an old episode of Mister Rogers from your childhood
Use a monkey puppet to search for bugs in your kid's hair 
Lion puppet and go around singing "I AM KING OF THE FORRRRESSSTTT!" 
Tiger's go hunting…right? 
Toy Food 
Grocery Shopping (but you have to pretend to scan it and then ask for paper coupons)
Cooking banana, mushroom, lettuce pancakes. (I made a pack away kitchen!)
Iron Chef: Preschool Edition 
Fruit salad for a picnic lunch and then lay a blanket on the living room floor to eat
Tea cakes and tea parties 
Horses 
It's Derby time and you've got a 1:10 bet on the brown mare Applesauce Sprinkle Cuddles
Toothbrushes and soapy water for horse baths
Pretend to take picture of wild horses 
Build corrals for them out of Legos and blocks
Hot Wheels Cars
Small box as a garage for cars to come in and out of for repairs
Make believe gas station 
It's race day, yo, and them there Nascar hot wheels have the inside track 
Run them through brown paint for a monster truck rally (and then wash them with soap and water!) 
Police chase because Cops and Robbers is a timeless game
Grab a metal cupcake tin and "bake" 
Do you wanna built a snowman? 
Hopefully, on a day when you're feeling burnt out or done with the day, you can look back at this list and find something to inspire you to play. 
Love,
Jess